Gwyneth Paltrow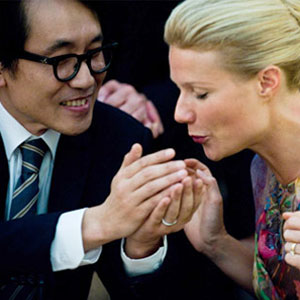 Warner Bros.
Gwyneth Paltrow
's germs caught on in a good way, as
Contagion
ousted
The Help
from the top spot at the weekend box office.
Another A-lister's new movie, however, was avoided like the plague.
The porn comedy was low budget, reportedly
costing less than $10 million
, and it was low on on-screen star power, with apologies to stand-up
Nick Swardson
, but it wasn't exactly a little movie. It opened on 1,500 screens (where, if you do the math, it averaged less than a thousand bucks from each.)
Among the films from Sandler's Happy Madison Productions,
Bucky Larson
is the least of the least, opening smaller than Blockbuster-desperation-night rentals such as
Grandma's Boy.
As things turned out—and they didn't turn out well for Hollywood—
Bucky Larson
was not the weekend's worst-opening wide-release movie. That distinction went to the horror movie
Creature
, starring
Greek
's
Aaron Hill
, which "grossed" $220 at each of its 1,507 theaters for a "grand total" of $331,000.
Warrior
, the other major new release, was another non-starter. The
Tom Hardy
fight movie came away with $5.6 million off a reputed $25 million budget.
Contagion
, by comparison, scored a healthy $23.1 million. Still, the
Steven Soderbergh
thriller, which boasts a
Ocean's Eleven
-sized cast, including Paltrow,
Matt Damon
and
Kate Winslet
, cost $60 million, so the start seems OK, rather than great.
As you might have deduced from all the weak debuts, Hollywood's fall season got off to a considerably smaller start than last year's. The brightest light was supplied by comic
Kevin Hart
's concert film,
Laugh at My Pain
, which made $2 million at less than 100 theaters.
Elsewhere, even
The Help
tumbled, with ticket sales down 40 percent. Nonetheless, the film, which spent three weekends at No. 1, climbed to nearly $140 million domestically.
Here's a complete look at the weekend's top movies, Friday-Sunday, per estimates as compiled by Exhibitor Relations:
Contagion, $23.1 million
The Help, $8.7 million
Warrior, $5.6 million
The Debt, $4.9 million
Colombiana, $4 million
Rise of the Planet of the Apes, $3.9 million
Shark Night 3D, $3.5 million
Apollo 18, $2.9 million
Our Idiot Brother, $2.8 million
Spy Kids: All the Time in the World in 4D, $2.5 million
Read more:
http://www.eonline.com/news/which_fall_movies_didnt_flop_well_how/263068#ixzz1Xlv9ociQ