Justin Bieber's body guard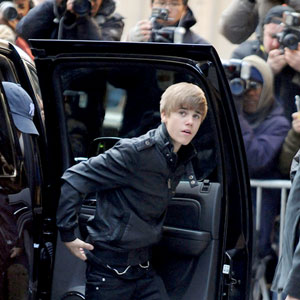 Hector Vallenilla, PacificCoastNews.com
Justin Bieber
's bodyguard is in the clear.
The Manhattan District Attorney's Office has formally dismissed misdemeanor assault charges against Kenneth Hamilton after an investigation revealed he was just trying to protect the popster when he
allegedly shoved
an overly aggressive photographer in front of the city's London Hotel last November.
In announcing their decision, Prosecutors told the court they opted not to move forward with one count of assault in the third degree after police determined that the "slight physical contact" between Hamilton and celebrity shutterbug Jason Nicholas was chiefly the result of the security man "trying to protect another person," i.e., Bieber.
The incident occurred after the 17-year-old crooner found himself swarmed by fans and photographers on his way to a
book signing
.
Consequently, authorities concluded they didn't have enough evidence to prove beyond a reasonable doubt that the 29-year-old Hamilton had intentionally set out to injure photog Nicholas as the latter claimed afterward, saying he suffered back pain after being pushed hard against Justin's SUV.
Nicholas had tried to snap a photo of Bieber when the altercation ensued. Instead, the shooter wound up in a nearby hospital where he was treated for minor injuries. After Nicholas filed a complaint, officers took Hamilton
into custody
three months later.
According to the
New York Daily News
, the 41-year-old Nicholas is no stranger to the law, having served 13 years in prison on a manslaughter conviction and having a few other arrests under his belt for being overly confrontational in his line of work. For instance, the photog is currently facing separate charges for allegedly assaulting and harassing a woman as well as jumping in front of former congressman
Anthony Weiner'
s car last June to get a picture.
Nicholas could not be reached for comment on today's developments