Rihanna's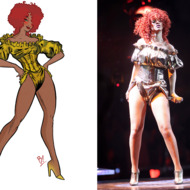 Rihanna's "Loud" tour began last week, and, if it wasn't "loud" in any other way, it most definitely lived up to its name in the sartorial sense. Concert-goers attending for the clothes alone surely won't be disappointed. Every jacket begging to be ripped off to reveal some sort of scandalous embellished leotard or bikini is, and it reveals just that kind of thing. Responsible for the encrusted bikini, denim bra, and remarkably skimpy metallic romper Rihanna wears onstage is stylist Mel Ottenberg, who met Rihanna through mutual friends of hers and Kanye West's, whom Ottenberg has also worked with. Ottenberg first worked with Rihanna when she performed for the NBA All Stars halftime show, when she wore a chunky beaded
Dolce & Gabbana
bustier from 1991. "We hit it off, and they asked me to do the tour," he told us. Incidentally, his work on this look also sparked rumors that Rihanna was no longer working with longtime stylist Mariel Haenn, who hasn't worked on the current "Loud" tour, Rihanna's recent
Rolling Stone
cover, or the singer's other recent public appearances.
Though Rihanna could certainly afford to have a big-name designer like Armani dress her, Ottenberg chose a different route, using pieces by independent designers, including some complete unknowns along with
threeasfour
,
Jeremy Scott
, and even his boyfriend, Adam Selman. Ottenberg takes us through Rihanna's concert looks in the slideshow.